A World of Health
When we say broadest available range of all-day health monitoring features, we mean it.
Body Battery Energy Monitoring
See your body's energy levels throughout the day, so you can find the best times for activity and rest.
Respiration Tracking
See how you're breathing throughout the day, during sleep and during breathwork and yoga activities.
Pulse Ox Sensor¹
The Pulse Ox sensor¹ gauges your blood oxygen saturation during the day and as you sleep to show how well your body is absorbing oxygen.
Advanced Sleep Monitoring
Get a full picture of how you're sleeping with a breakdown of your light, deep and REM sleep stages as well as Pulse Ox1and respiration data.
Menstrual Cycle Tracking
The Garmin Connect app lets you track your cycle, log physical and emotional symptoms and learn about training and nutrition during each phase of your cycle. Get cycle tracking information right on your wrist. You'll be able to see period reminders, cycle details and symptoms logged for the day.
Stress Tracking
See if you're having a calm, balanced or stressful day. Relax reminders will even prompt you to do a short breathing activity.
Hydration Tracking
Staying hydrated is important for your well-being. Log your daily water intake to help you stay hydrated and see how consistent you are from day to day.
Wrist-based Heart Rate²
The watch constantly samples your heart rate and will alert you if it stays high while you're at rest. It also helps gauge how hard you work during activities.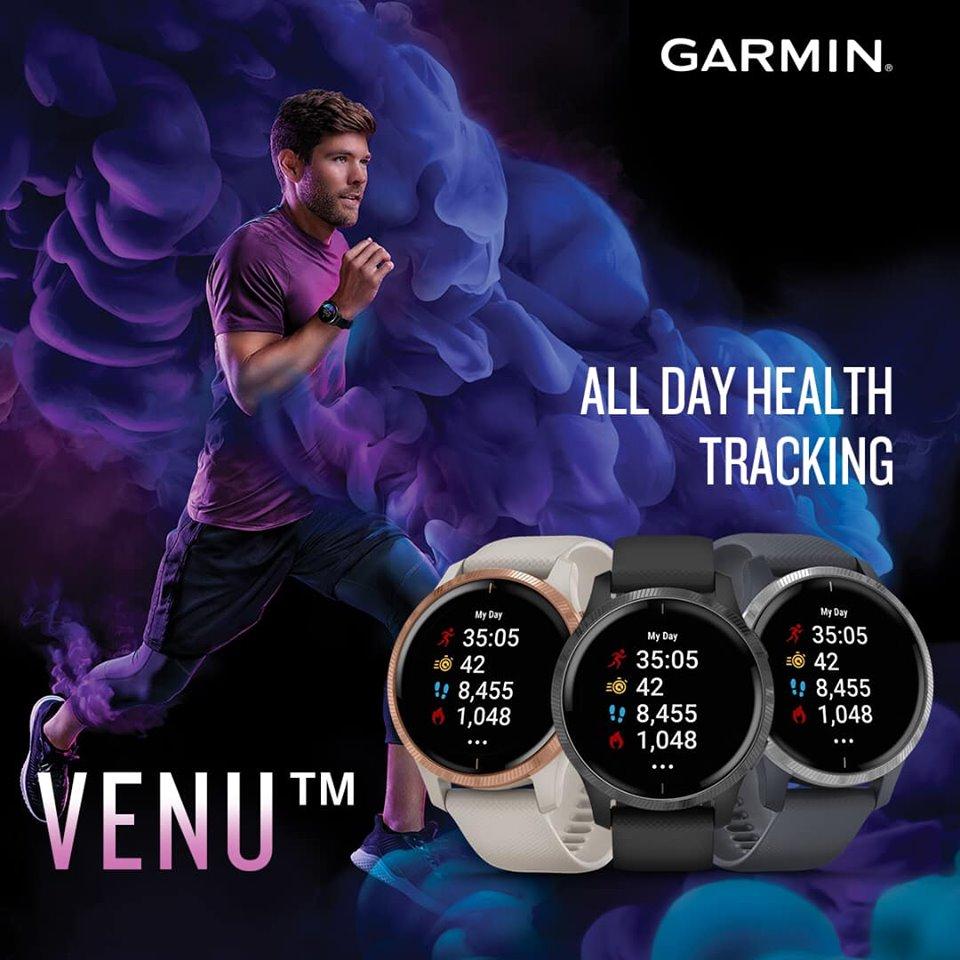 Seller's payment options are the following:
Cash on Delivery
Credit or Debit Card via PayMongo
GCash via PayMongo
Cash on Delivery orders P21,000 and above, please expect a message or a call from our Customer Support who will assist you in switching the payment method to bank transfer so you can continue with the purchase.
Shipping Rates
Shipping fee is free of charge until further notice. Estimate delivery times are to be used as a guide only and commence from the date of dispatch. There might be a delay in receiving your orders during sale events, special holidays, and inclement weather.
Due to the damages caused by Typhoon Odette, we won't be accepting orders from the following provinces until further notice: BOHOL, CEBU, PALAWAN and SURIGAO
Processing of Orders
Cash on Delivery orders will be processed for 1 to 2 days after placing an order and PayMongo orders will be processed 1 to 2 days after payment confirmation.
Seller's regular delivery partner is 2GO Express and the Product(s) will be delivered to the delivery address you specify in your order.
For Same Day Delivery, our delivery partner is Borzo (Mr. Speedy) and our cut off for delivery is 2pm everyday. Orders placed after 3pm will be delivered the next day. If you have not received your order within the estimated delivery time, please contact support@navco.com.ph for assistance.
Tracking Orders
For orders shipped via 2GO, we will send you the tracking number as soon as it's available and you can track the delivery on this website:
https://supplychain.2go.com.ph/CustomerSupport/tools/tracking.asp
Order Issues
Missed deliveries: If the courier cannot reach you on the day of the delivery, the courier will leave without waiting. Contact the courier directly for a new delivery appointment or if you want to change the delivery address.
Damaged orders
If you have received your order and find that it is damaged, please check our Return Policy
In case of any damage to your delivery, Seller will contact the courier to resolve the issue as quickly as possible with as little inconvenience to you. Seller will make every effort to contact you and keep you informed of the progress of investigation and replacement.